The management committee of the Congregation analysed the current scenario and decided to scrutinize the finance of the Congregation. They organised a meeting on "Financial Management of the Congregation" on 27th & 28th June, 2015. The first day meeting was organised for the sisters who are working in Higher Education Institutions, Higher Secondary Schools and in High Schools and the second day, for the sisters from Primary Schools, Middle Schools and Matriculation schools attended.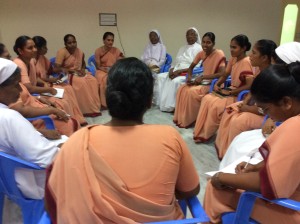 Very Rev. Mother Reginal, Superior General explained the resent financial status of the Congregation and gave her views on the existing reality in the Congregation regarding financial issues. Mr. Roy John Thomas, Auditor of the Congregation along with his son presented the Auditing Report of the provinces and institutions. They suggested that computerization of the accounting system in big educational institutions will help us to some error in the present system and how to overcome various barriers in the existing financial system of the Congregation.
The sisters gave the views and suggestion in the group discussion to improve the Financial Status of the Congregation. Finally it was decided in the meeting to form a Financial Committee in the Congregation level and to prepare the Financial Policy of the Congregation immediately and the decisions were forwarded to the General Team for the approval. The above mentioned decisions of the meeting were accepted and resolved by the management committee to make necessary step as emergency. Totally 240 sisters participated in the meeting including the Management Committee Members and Provincials.