April 22, 2018
Chapter Preparation (2017-2018)
Rev. Mother Reginal, Superior General declared that the 18th General Chapter of the Congregation on 22nd April, 2017. As per her announcement the Chapter will be held on 03-21 May, 2018 at Infant Jesus Ashram Tiruchirapalli and "Witnessing the Gospel in the footsteps of the Servant of God Annammal" was the main theme of the Chapter. After that the preparatory committee was selected by the General Team in the month of June, 2017. The members of the Committee were as follows: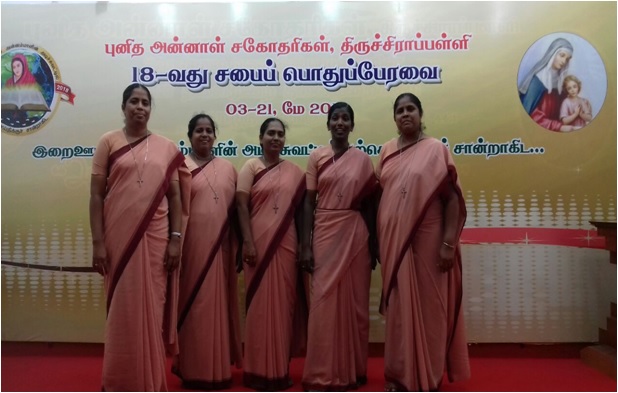 Rev. Sr. Annammal
Rev. Sr. Mary Fathima Sylvia
Rev. Sr. Jesus Mary
Rev. Sr. Sahaya Shylaja
Rev. Sr. Jency Saleth Mary
Various preparatory works were done to deepen the faith, sharpen the mission and strengthen the missions of the sisters. Evangelization ministry was the main focus in these preparations. Seminars and effective workshops were given to the Administrative team, juniors, youngsters and all sisters. Rev. Mother Reginal, SAT and Rev. Fr. Joe Arun S.J were the Resource persons of the preparatory process.
After the Chapter delegates' election, the Pre-Chapter meeting was held at Poondi Shrine from 7th to 8th April 2018. In this meeting, the delegates discussed the suggestions and recommendations for the General Chapter.
— Sr. Arul Anita, SAT
Secretary General