August 29, 2017
Evangelization Meeting (III and IV)
There are two evangelization meetings were conducted under the Presidentship of Most Rev. Dr. Singarayar DD,Bishop of Salem in this academic year. The first one was held on 29th to 30th August, 2017 and the second meeting was conducted from 2nd September 2017 to 3rd September, 2017.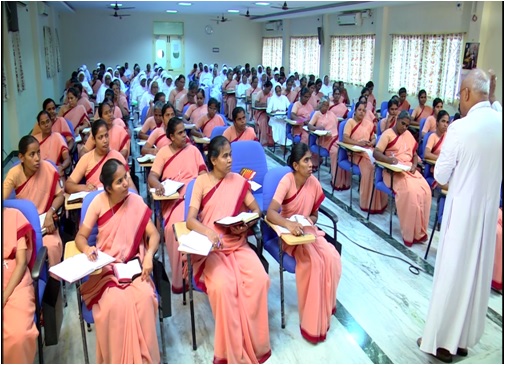 Bishop Most Rev. Dr. Singarayar suggested many useful ideas based on his experience in the Evangelization Ministry and motivated the sisters to proclaim the good news in all the ministries in which they are involving at present.
His message was thought provoking and very practical. 300 sisters participated in the two Seminars. It was very helpful to the participants to enrich their knowledge and skill in the field of evangelization.
Sr.Arul Anita, SAT