September 16, 2019
Jubilee is an occasion of remembrance of the past events; of return to the spirit of the founder to the family.
We thank the Almighty for His indwelling presence and His abundant blessings upon St. Anne's pre- Novitiate, Tiruchirapalli as it completes 50 years of fruitful formation to the Congregation, Church and the Society. God blessed this Pre-Novitiate as 2nd formation house since 1969. At this occasion, we thank God for the gift of Mother Luzy Crecentia for her forward thinking towards the formation and the chapel which is the symbol of inculturation.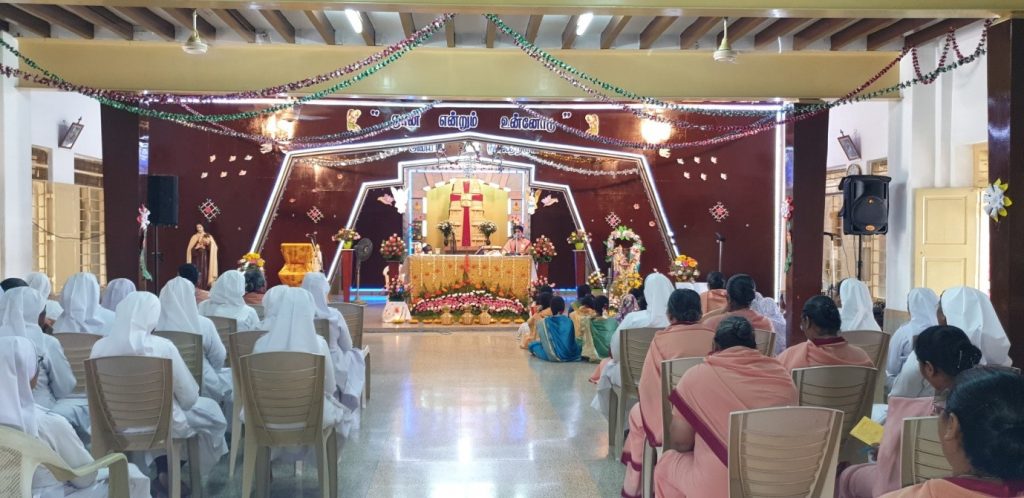 On 16th September 2019, the holy Eucharistic thanksgiving Mass was concelebrated by Fr. Mathew, OFM Cap., Provincial. Superior General Rev. Mother Reginal and her Councillors, Provincials, former Superior Generals, present and former formation Mistress, Novices, Aspirants and Local people were joined together to share the blessings of this special occasion. The Holy mass was enriched with the angelic choir of Novices and Aspirants. At the end of the solemn celebration Sr. Anita thanked everybody from 1969 to till date, especially our former formators.